Bibtights EKOI Gel V-Light CORSA
The EKOI GEL V-LIGHT tights will surprise you with their comfort, warmth and flexibility
Fully fleece lined, it is effective down to 0°C
From the first pedal strokes you will appreciate the comfort of the GEL V-LIGHTpadding designed to accompany the pedaling movement. This padding was developed in partnership with the ARKEA SAMSIC team.
Products benefits

- Ultra light and very breathable GEL V-LIGHTpadding, the V-shape of which accompanies and optimizes comfort during pedaling. (Ekoï patent)
- Effective up to 0°C.
- SUPER ROUBAIX thermal fiber : maintains the body at a constant temperature, wicks away perspiration and humidity quickly.
- Reflective Ekoï logos for added safety.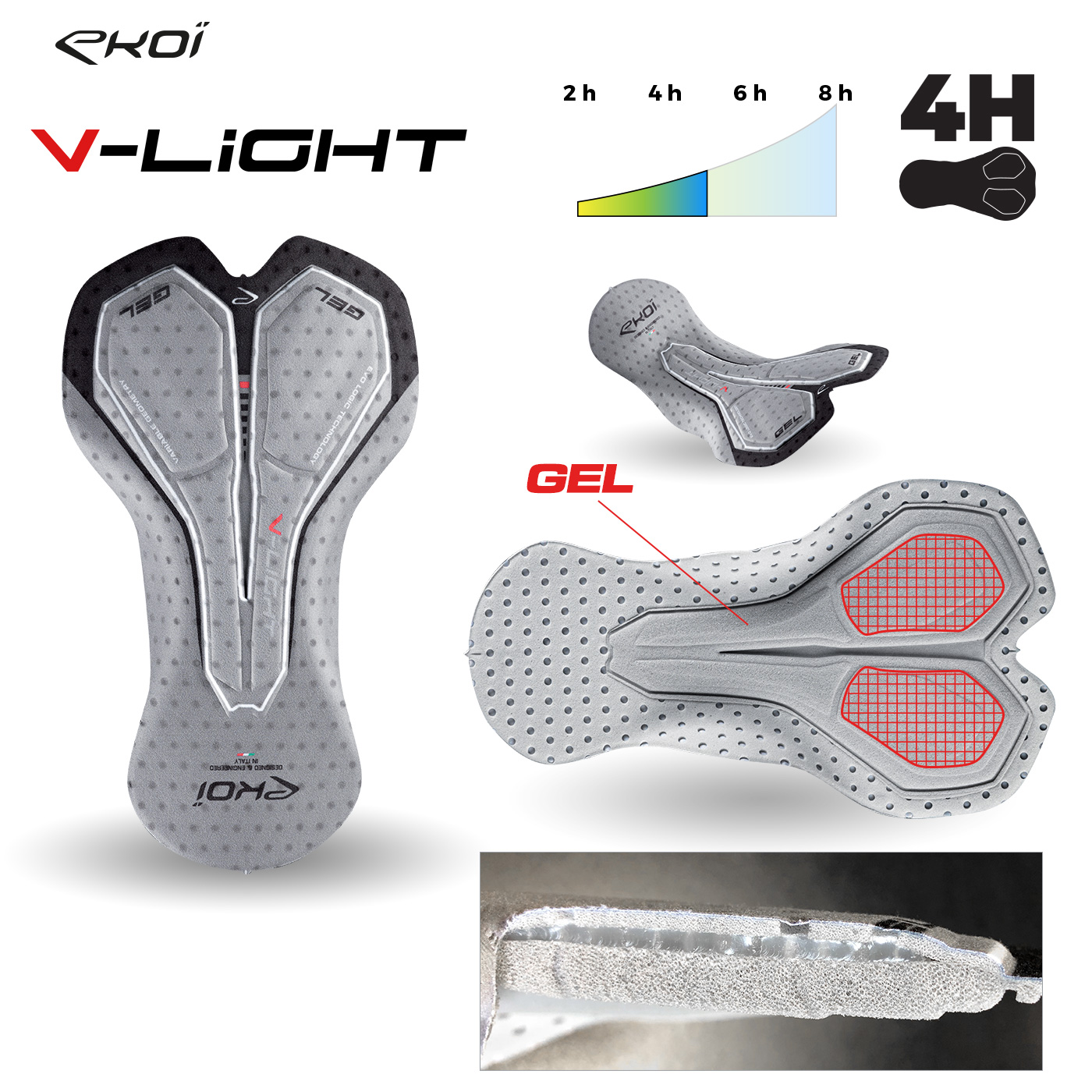 PADDING :
- New padding GEL V-LIGHT (Ekoï patent: composition and form)
- Padding with excellent elasticity and very breathable : the padding is forgotten, adapts to your buttocks and optimizes comfort during pedaling.

FIBER :
- SUPER ROUBAIX thermal fleece fiber.
- Inside of the tights fully lined with fleece, soft, warm and comfortable.
- Excellent thermal insulation for the body: protects against cold and humidity, wicks away perspiration.
- Dark undyed fiber : maximum opacity.

STRAPS :
- Elastic, flexible and comfortable suspenders.
- Stretch mesh back to wick away sweat.

FINISHING :
- Elastic with silicone band at the ankles for a perfect fit.
- Reflective Ekoï logos.
- Ergonomic preformed cut.
Material
- 85% Polyamide
- 15% Elasthanne
Washing instructions
- Machine wash at 30°C
- Before washing, turn the shorts inside out
- No tumble dry
- No fabric softener
- No dryer
- No ironing
 
A : 

Hip Circumference

B : 

Height

Weight

S
35.4/37.0 in
< 70.1 in

< 132 lbs

M
37.0/38.6 in
< 70.8 in
< 152 lbs
L
38.6/40.9 in
< 72.0 in
< 172 lbs
XL
40.9/42.5 in
< 74.0 in
< 196 lbs
XXL
42.5/44.1 in
< 76.0 in
< 218 lbs
Hip circumference (A): measure around the widest part of the hips, keeping the tape horizontal.
on 432 reviews
of which 9 in your language
John P.

24/12/2021

Age: 45-54

Level: Advanced

Pratique: Road

I really like these. Toasty warm and comfortable. Ridiculous value.

John H.

22/05/2021

Age: 55-64

Level: Advanced

These bib tights are a good fit and worn them at 6 degrees and felt fine but I don't think they will be used in deep winter as quite thin. Pad feels slim but has plenty of padding and I find it very comfortable on rides of about 100km. Only issue I have is the position of the ankle zips which is just on the outside ankle joint (medial malleolus) so could get a bit irritating but I have to just twist them a little to offset this. It's OK but not ideal.

Nick S.

26/03/2021

Age: 55-64

Level: Advanced

Unbelievable service from Ekoi; I ordered Thursday afternoon in London - items received on Friday - all this in Lockdown. Brilliant.
the bib tights are the best yet 0 good fit & pad

Boris P.

21/03/2021

Age: 55-64

Level: Amateur

Excellent 10 stars ???????? ????????????

Tuan N.

06/01/2021

Age: 55-64

Level: Beginner

Winter bibtights ekoi v-light inverno black - size : m

I am 5'6", 128 lbs (58 kg) with a 29" inseam and 28" waist, and size M fits me well. I followed size advice from other reviewers and selected a size bigger than the EKOI size guide and that worked well. I had worn the tights on days when temperature was 45 degrees F or lower (the coldest was 35F w/ 10 mph headwind). The upper part of my body could be cold but definitely not the legs. The shoulder straps lay flat. Highly recommended.

Dragec H.

04/12/2020

Age: 45-54

Level: Amateur

Good product - fitting well (followed size advise from ekoi and fully satisfied with it)
pleasant to wear - only disadvantage: could be a bid warmer. Ok to ride down to 0 degrees; -5 degrees Celsius I wouldn't recommend
but other than that I'm very happy with those bibtights

Luis Tomás V.

14/05/2020

Age:

Level: Beginner

Tom M.

08/03/2020

Age:

Level: Beginner

Excellent and a good price too

Good thick and comfortable chamois. Flat stitches mean no rubbing. Thick lycra. All round a very good product, especially at the discounted price.

Colin S.

07/03/2020

Age:

Level: Beginner

Like any Ekoi product, first class bibtights. Really comfortable, warm and well padded.