Bibtights EKOI V-LIGHT INVERNO Black
The EKOI INVERNO GEL V-LIGHT tights will surprise you with their comfort, warmth and flexibility.
Fully fleece lined, it is effective down to -5 ° C.
From the first pedal strokes you will appreciate the comfort of the GEL V.LIGHT padding designed to accompany the pedaling movement. This padding was developed in partnership with the ARKEA SAMSIC team.
Products benefits
-SUPER ROUBAIX thermal fiber : keeps the body at a constant temperature, wicks away perspiration & humidity quickly.
- Inside of the tights fully lined with fleece, soft, warm, flexible and comfortable.
- Easy Wash fiber (easy maintenance): light soiling can be easily cleaned with a damp, slightly soapy sponge.
- Ultra light and very breathable GEL V-LIGHT padding, the V-shape of which accompanies & optimizes comfort while pedaling. (Ekoï patent)
- 100% European manufacturing with GEL fabrics and padding made in Italy.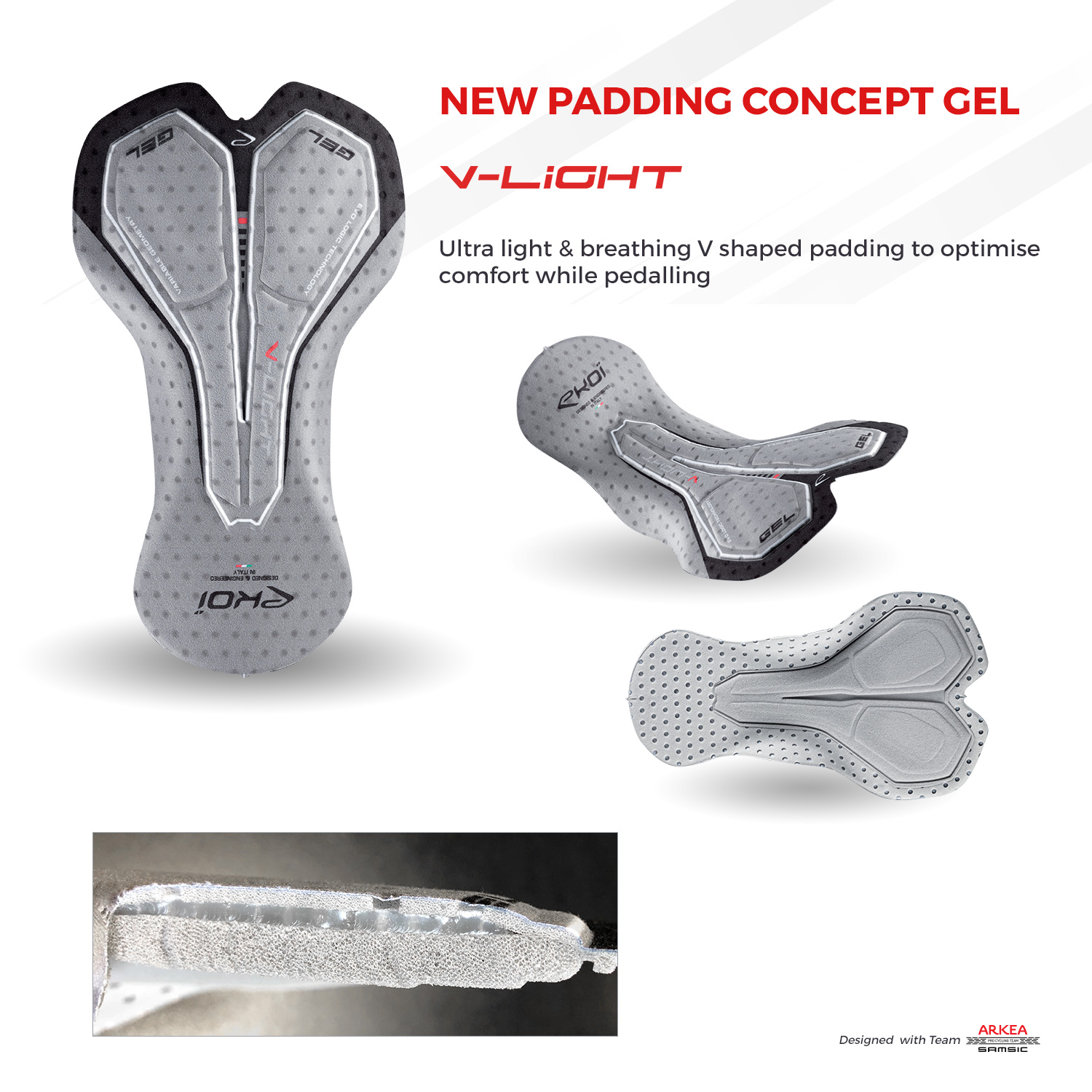 PADDING :
- New padding GEL V-LIGHT (Ekoï patent : composition & shape)
- Padding with excellent elasticity & very breathable : the padding is forgotten, adapts to your buttocks & optimizes comfort during pedaling.
- Made in Italy

FIBER :
- SUPER ROUBAIX thermal fleece fiber is a technical fiber which is an excellent thermal insulator for the body : protects against cold &humidity
- Tinted black fiber
- Made in Italy.

STRAPS :
- Ergonomic shoulder straps for perfect support
- Fleece lined shoulder straps : soft, warm, supple and comfortable

FINISH :
- Silicone band at the ankles for a perfect fit
- Self-locking zippers at the ankles
- Flat seams for increased strength & aesthetic effect
- Zig-zag padding seams for added strength and elasticity
- Ergonomic preformed cut.
Use
- Training or competition, road or mountain biking
- Effective down to -5 ° C.
Material
- Lycra THERMOROUBAIX ® 3.0 breathable 250g 100% Polyester.
Washing instructions
- Machine wash at 40 °C
- Before washing, turn the tights inside out (seams on the outside).
- No fabric softener
- No dryer
- No ironing.
 
A : 

Hip Circumference

B : 

Height

Weight

S
35.4/37.0 in
< 70.1 in

< 132 lbs

M
37.0/38.6 in
< 70.8 in
< 152 lbs
L
38.6/40.9 in
< 72.0 in
< 172 lbs
XL
40.9/42.5 in
< 74.0 in
< 196 lbs
XXL
42.5/44.1 in
< 76.0 in
< 218 lbs
Hip circumference (A): measure around the widest part of the hips, keeping the tape horizontal.
No size diference between Standard collection and Racing collection.
on 331 reviews
of which 8 in your language
John H.

22/05/2021

Age: 55-64

Level: Advanced

These bib tights are a good fit and worn them at 6 degrees and felt fine but I don't think they will be used in deep winter as quite thin. Pad feels slim but has plenty of padding and I find it very comfortable on rides of about 100km. Only issue I have is the position of the ankle zips which is just on the outside ankle joint (medial malleolus) so could get a bit irritating but I have to just twist them a little to offset this. It's OK but not ideal.

Nick S.

26/03/2021

Age: 55-64

Level: Advanced

Unbelievable service from Ekoi; I ordered Thursday afternoon in London - items received on Friday - all this in Lockdown. Brilliant.
the bib tights are the best yet 0 good fit & pad

Boris P.

21/03/2021

Age: 55-64

Level: Amateur

Excellent 10 stars ???????? ????????????

Tuan N.

06/01/2021

Age: 55-64

Level: Beginner

Winter bibtights ekoi v-light inverno black - size : m

I am 5'6", 128 lbs (58 kg) with a 29" inseam and 28" waist, and size M fits me well. I followed size advice from other reviewers and selected a size bigger than the EKOI size guide and that worked well. I had worn the tights on days when temperature was 45 degrees F or lower (the coldest was 35F w/ 10 mph headwind). The upper part of my body could be cold but definitely not the legs. The shoulder straps lay flat. Highly recommended.

Dragec H.

04/12/2020

Age: 45-54

Level: Amateur

Good product - fitting well (followed size advise from ekoi and fully satisfied with it)
pleasant to wear - only disadvantage: could be a bid warmer. Ok to ride down to 0 degrees; -5 degrees Celsius I wouldn't recommend
but other than that I'm very happy with those bibtights

Luis Tomás V.

14/05/2020

Age:

Level: Beginner

Tom M.

08/03/2020

Age:

Level: Beginner

Excellent and a good price too

Good thick and comfortable chamois. Flat stitches mean no rubbing. Thick lycra. All round a very good product, especially at the discounted price.

Colin S.

07/03/2020

Age:

Level: Beginner

Like any Ekoi product, first class bibtights. Really comfortable, warm and well padded.