Create your Bib short
Gel Pad
Density 65
Gel Pad
Density 85
Gel Pad
Density 120
New concept of the bib shorts: The model EKOI PROGELMEMORY
Select your pads according to your weight.
Current road bikes are more and more rigid, saddles are becoming lighter, country or mountain roads on which we are riding are sometimes in poor condition, if you drive occasionally 2 or 3 days in a row you certainly feel discomfort at the sit bones the 2nd or 3rd day, 75% of sports cyclo is causing back problems 2 to 3 times a week ...

It is partly for these reasons that EKOI created its new exclusive concept:
EKOI PROGELMEMORY shorts with GEL inserts in specific gravity measurement on shape memory.

The GEL density is different depending on your weight to provide you a custom fit.

The shape memory GEL inserts are designed according to the weight of the user to absorb vibrations and micro trauma on the ischial and perineal, in short and long-term without time gel density alteration . Our memory shape GEL keeps its elasticity & its properties over time.
EKOI offers 3 different pads depending on your weight:

- BLUE GEL MEMORY 65: supported weight <70kg
- GREEN GEL MEMORY 85: weight supported 71 to 77 kg
- MEMORY GEL 120 YELLOW: supported weight> 78 kg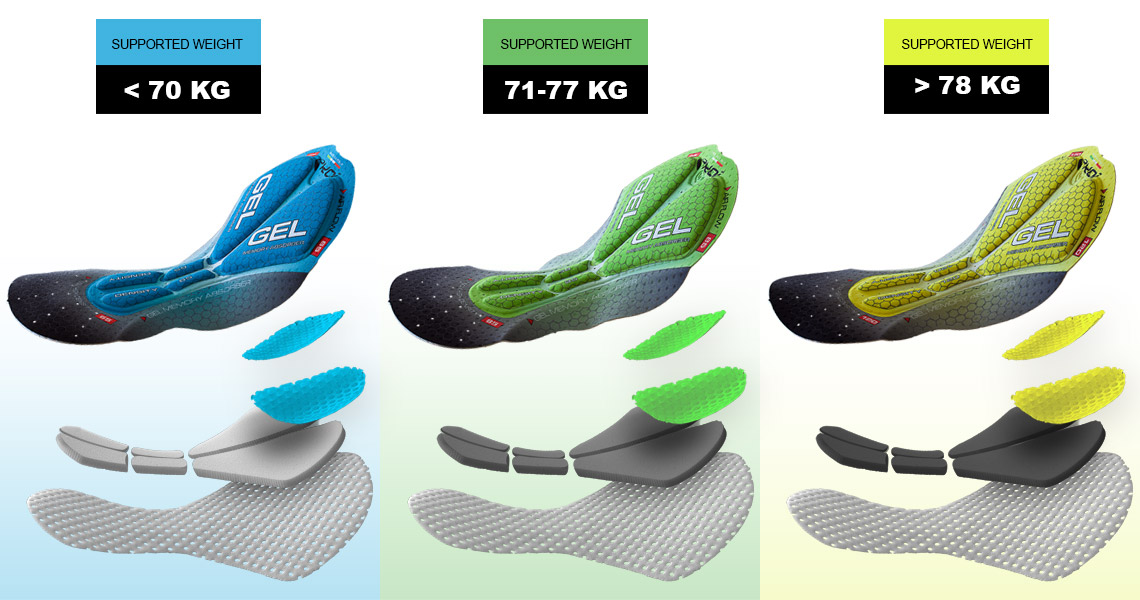 Perfect fit thanks to the concept of shape memory distortion
The density of the shape memory GEL will give you a very comfortable seat at the first and long-term ride because the GEL will adapt to your anatomy and pressure points of impact while promoting blood flow.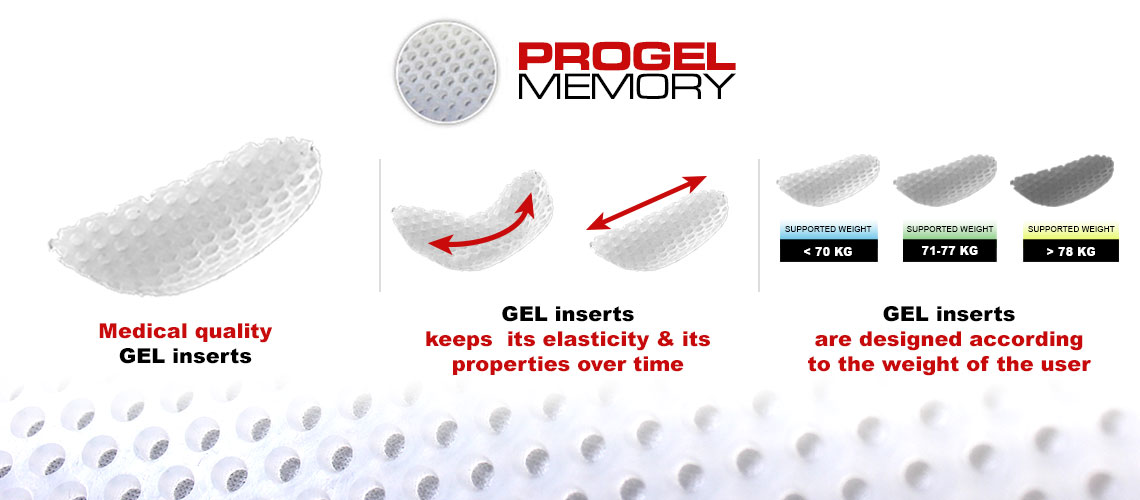 Medical quality GEL:
By its exclusive composition our gel does not pucker, will not harden and retain its long-term comfort properties.
Suppleness of the pad regardless of the GEL density:
Pad is flexible and adapts to the movements of pedaling and the shape of the saddle.

GEL MEMORY pads are composed of an anti-bacterial coating for optimum hygiene even after long rides in extreme conditions.
Humidity control & evacuation of sweat:
Micro-perforations & thermoregulatory ventilation channels on the whole pad allow the air flow and evacuation of sweat.


MADE IN ITALY :
Our MEMORY GEL pads have been developed & manufactured in Italy because of the Italian unrivalled know-how.
The product+:
. GEL custom inserts adapted to your weight
. Gel shape memory
. Comfort & properties of GEL inserts (absorption trauma microphones)
. New shorts shape with ergonomic design
. Embrossed lycra 210 gr (resistant and aesthetic)
. Elastic strips 6 cm with silicone

Use:
ROAD or MTB for comfort
Features:
. New ergonomic preformed cut
. Shape MEMORY GEL pads,
. Mesh fabric & ventilated straps with flexible SYDER passage between the shoulder blades,
. Mesh front part to facilitate stops pee,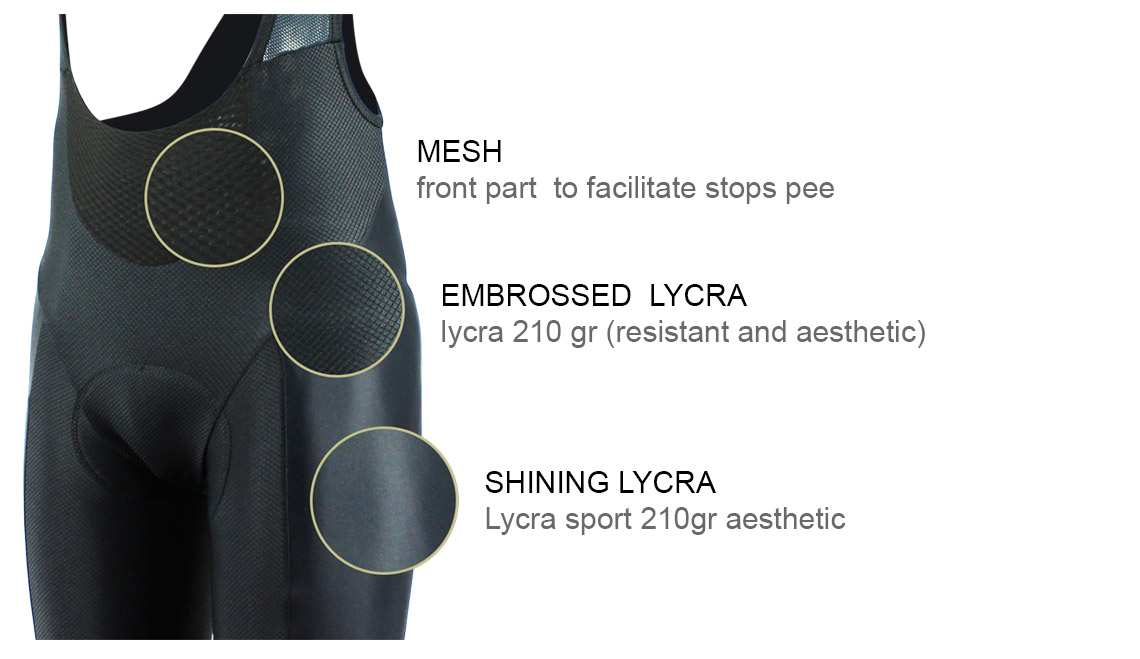 Material:
. Lycra Sport 210 gr.
. 80% polyester and 20% Lycra Sport Xtra made in Italy.

5 sizes:
S/M/L/XL and XXL.

Washing instructions:
. Machine program 30°
. No tumble dry or ironing.
. Wash possibly in a white mesh bag to preserve color and prevent friction with other products that might damage the fabrics (like Velcro which is very aggressive with Lycra).

Comes in a cylinder housing: